While the small yet surprisingly significant town of Galesburg has much to offer, one of 
the staples in this midwestern community are the various craft beers and custom drinks
provided by local bars and breweries. Whether you prefer hoppy IPAs or a lighter wheat ale, this
town has a beer to satisfy just about anyone (21 and up, of course).
One local favorite is 
Iron Spike Brewing Company
. Located downtown, this rustic brick
building gives off welcoming vibes to all who may enter. The interior is decorated with graffiti
that provides a visually appealing, artistic atmosphere to go with the enticing food and beer.
Next, our journey brings us to the inventive 
La 
Cantinita
. Quiet music floats through the
air and the modernistic design mixed with the beautiful art pieces adorning the walls
immediately set the tone. While it is largely a tequila bar, it has plenty of delicious food and
snacks, making it a worthwhile excursion for the entire family. On their drink menu is a variety
of margaritas, each one of them, while delicious, packs a punch.
The newest addition to our craft beer family is 
Reserve Artisan Ales
.
This pour-your
–
own craft brewery in downtown Galesburg offers over 30 different brews to enjoy with friends
in a relaxed, fun atmosphere complete with indoor and outdoor seating.
We
'
ve had the brews, a little tequila, now how about some bourbon?
The Bar 65
 is fast
becoming a hot spot for whiskey fans. Walking up to the expansive wooden bar, you will face a
literal wall of spirits from which to choose.
Sam, the bartender/owner, will immediately make
you feel like you have been friends forever and you
'
ll want to visit again.
Finally, our tour brings us to 
Hidden Hills Vineyard and Winery
. A gravel path leads you
to the beautiful winery where you will find a taste experience unlike any other.
Cozy up to the
unique custom-designed bar and sample a variety of wines produced on-site.
A small town with big-time flavor, Galesburg will get you in the spirit! 
Home / Brews and Spirits / Winery / Hidden Hills Vineyard and Winery
Hidden Hills Vineyard and Winery
120 Hidden Dr. Knoxville IL
Hours
Monday – Tuesday: CLOSED
Wednesday – Thursday: 12:00pm – 7:00pm
Friday – Saturday: 12:00am – 9:00pm
Sunday: 12:00pm – 5:00pm
About
We invite you to come visit us and taste the simple goodness Hidden Hills has for you to enjoy.
We are located in the hills of west central Illinois. A gravel path leads you to our beautiful winery, tucked away conveniently right off of Interstate 74 in Knoxville.
When you visit, you will be warmly greeted by our friendly staff. Inside we have an inviting tasting room with a unique custom designed bar, where you have the opportunity to sample a variety of wines that we produce right here in Knox County. We offer various wines, available by the glass or bottle, for guests to enjoy along with tasty snacks in a comfortable setting. Take the opportunity to relax in our tasting room or anywhere outside on our beautiful grounds.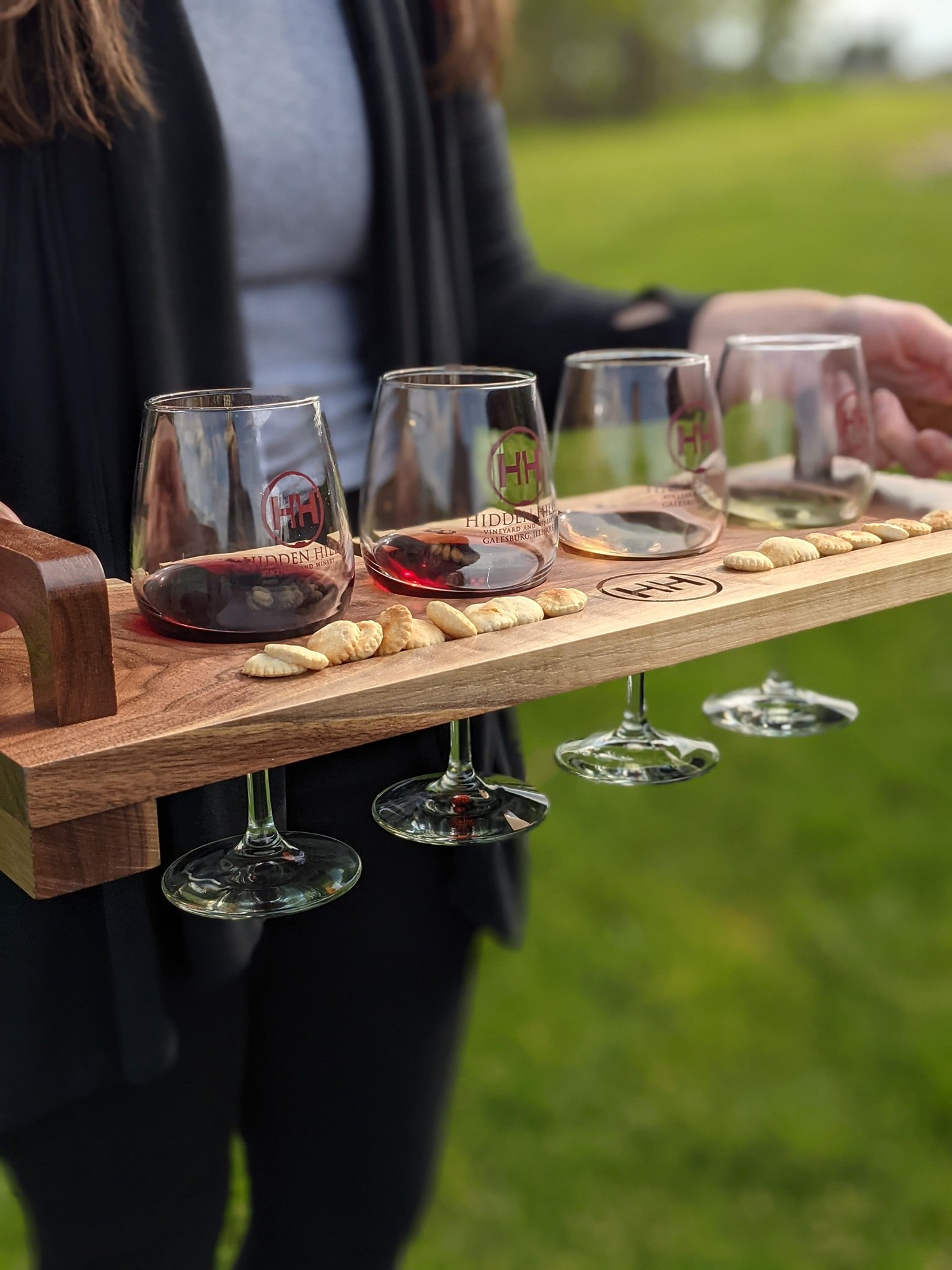 Category
Directions: