The heart of expression comes in many forms. Galesburg proudly offers an intimate insight into the things that make us all feel something—a connection between you and something you bring to life through your experiences. Join us at the Orpheum Theatre for a classic experience perfectly matched with modern amenities! Then, take in more of Galesburg's theatrical action at the Prairie Players Civic Theatre. Both offer amazing renditions of your favorite shows without the hustle and bustle of big city venues! Need more art? The well-informed critic can engage in monthly exhibits of both local and national artists in the Galesburg Community Arts Center; while the budding artiste can curate their own masterpiece at Art Defined, you'll not only create something extraordinary, you may uncover something incredible about yourself in the process. What about the music? Well, plan to sit back and listen to the classical tunes of the Knox-Galesburg Symphony. Want to take in a movie? AMC Showplace Galesburg 8 offers just that, and at nearly half the cost of big-city theaters.
Enjoy the smooth sounds of jazz during the annual Jazz Residencies at Knox College. In the fall, attend the Jerome Mirza Jazz Residency, and in the spring, the Knox-Rootabaga Jazz Festival, featuring jazz greats from around Illinois and beyond.
Home / Culture / Galesburg Community Chorus
Galesburg Community Chorus
PO Box 601 Galesburg IL 61401
About
The Galesburg Community Chorus debuted in December, 1945 with 125 voices, four soloists, and the Civic Orchestra of 30 pieces. Since then we have performed over 150 concerts, including six world premieres, as well as performing at Carnegie Hall in 2005. In addition, the Chorus hosts guest concerts annually, which bring a wide variety of musical styles to our area. Finally, area groups, both choral and instrumental, are invited to perform at its concerts.
Currently, the Chorus is fortunate to have Dr. Tim Pahel, Associate Professor of Music, Director of Choral and Vocal Activities, and Chair of the Music Department at Monmouth College as its Director. Tim has been at the helm of the Galesburg Community Chorus for 21 years.
Through the years, there have been countless chorus members, 629 in the past 25 seasons alone. As a non-auditioned choir focusing on classical music, the Chorus provides an outlet for singers to perform challenging music and to share that music with the community. Chorus members range from gifted life-long musicians to persons who simply love to sing, and age-wise from senior citizens to students. The singers come from a variety of locations and pasts, and all are welcome.
Persons interested in joining the group simply show up for the first practice, either in late August or mid-January. Rehearsal times are Monday evenings from 7 to 9 pm at the First Lutheran Church in Galesburg. Normally, two concerts are performed by the Chorus each year in the fall and in the spring.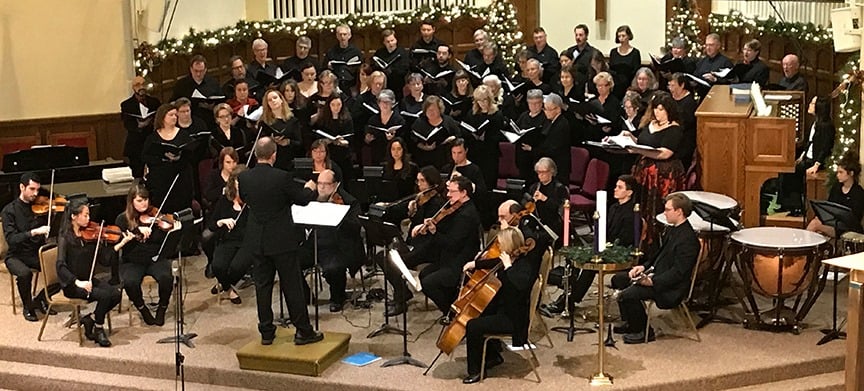 Category
Directions: